Free things can sound tempting but the best free website hosting providers are outmatched by their paid subscriptions in terms of performance, features, and security. So, here we can help you to find the best free web hosting providers so that you can test your new scripts for your websites as well.
If you are looking to build a reputable business and make money online, then I will advise against choosing a free host.
Free Website Hosting Services
Still, if you are only looking for a testing environment, free hosting can be a solution. Whether you want to test a new script for your website or just to see what it's like to actually run a site, free hosting can do so well for you.
Today in this article, we will help you to find the best 5 free web hosting services providers with their features, performance, pros, and cons.
Web hosting we will describe here are:
InfinityFree
Freehosting.com
AwardSpace
Freehostia
000Webhost
So let's start.
InfinityFree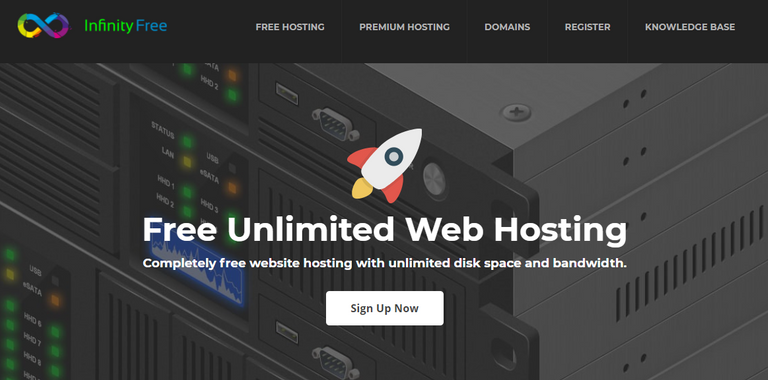 Infinityfree is a new name in the hosting competition, but their services had earned a top rank on our list. Now, their website doesn't say much about them.
Features of InfinityFree
One of the best things you will notice with the InfinityFree accounts is the unlimited space and bandwidth promise. Every server resource has its limits, so how they can give unlimited space and bandwidth for free.
You can try to upload a 20GB video and then you will see why you can't get unlimited.
The best thing about InfinityFree is they make no effort to hide their actual resource caps. The control panels reveal the number of databases, limits of emails, number of files, and number of daily traffic.
Performance of InfinityFree
We have tested the performance of all free web hosting sites in this list with a new WordPress installation. InfinityFree can be one of the best in terms of speed and onload time. So you can get the most optimized page but still, it loads slowly because of low server response.
The onload stat relates to the time it takes the server to load the full page, along with the images, and CSS. Any clean installation with no fancy theme and plugins should have a very low load time, and InfinityFree was no exception.
While we are testing, we have tested with uptime of InfinityFree websites also and we have seen that there is 100% uptime for the period of 30 days.
Pros of InfinityFree
Unlimited Bandwidth and Disk Space
Unlimited Subdomains
Free SSL On All Domains
10 Email Accounts
Can Link To Top TLDs
No Frond End Ads
Softaculous With 400 Scripts
Free Migration To Paid Hosting on iFastnet.com
Cons of InfinityFree
Freehosting.com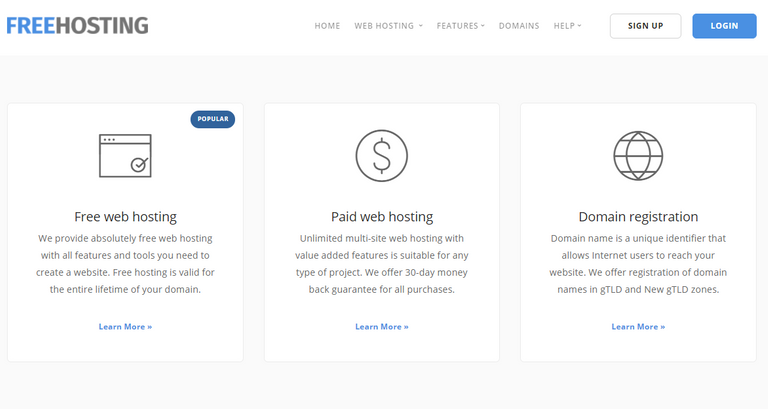 Features of FreeHosting.com
They offer a 10GB space cap which is excellent. But you will get a single domain hosting with that much space. Subdomains and addon domains are not available with the free plan.
At least there is no limit for FTP accounts, so you can give access to other people to help you with the development of your project.
Performance of FreeHosting.com
Their speed results can fail sometimes in the middle but it's not too bad. Nothing bad to say about the uptime, as per my test my website was not having any downtime during the first month of testing.
Pros of FreeHosting.com
Lifetime Access
All Essential Tools and Features included
cPanel For Hosing
Website Builder
One-Click Install For Over 350 Scripts
Unlimited Traffic
Paid Add Ons
Cons of FreeHosting.com
1 Email Account Only
Paid SSL
Paid Subdomains
Paid Additional Databases
Paid Support
AwardSpace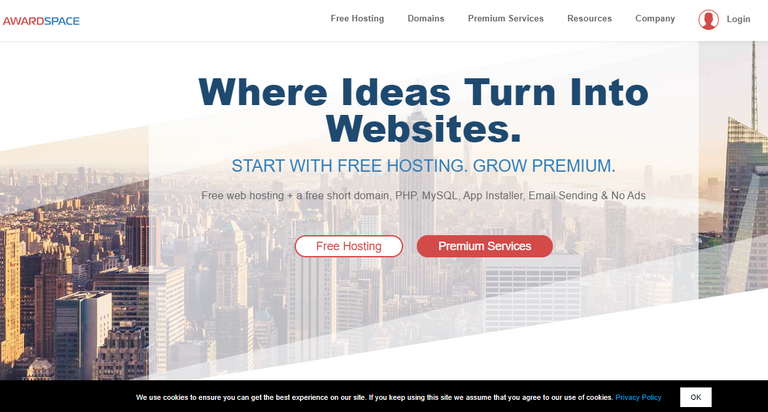 AwardSpace started its business in hosting in 2003. Companies on their established reputation, but that is certainly not the case with AwaedSpace.
Features of AwardSpace
AwardSpace set clear limitations for its customers, and I appreciate their honesty. The 1GB space and 5GB traffic should be enough for small websites though the traffic cap might benefit from a little increase.
The free subdomain upon signup is useful to start your project and you can add three more from the control panel.
Some More Features:
Host up to 4 websites
99.99% network uptime
CMS Installer
Web-Based File Manager
100% Ad-Free
24/7 Customer Support
5GB Bandwidth
1000MB Disk Space
Instant Account Activation
Full MySQL Database Support
PHP MyAdmin
Performance Of AwardSpace
As per our tests, their hosted websites have an uptime of 98.54% which is one of the lowest of all hosts those on this list.
But speed tests proved more successful, and the first server response came at around 0.600ms. This company understands the importance of fast and reliable servers.
Pros of AwardSpace
One-Click Installation for WP and Joomla
Instant Activation (Even with your FB account)
24/7 Customer Support
Sales Support
Access To MySQL+ PHP MyAdmin
Bandwidth Usage Transparency
Cons of AwardSpace
Limited Basics (1GB Disk Space & 5GB Bandwidth)
1 Database Allowed
1 Email Allowed
Freehostia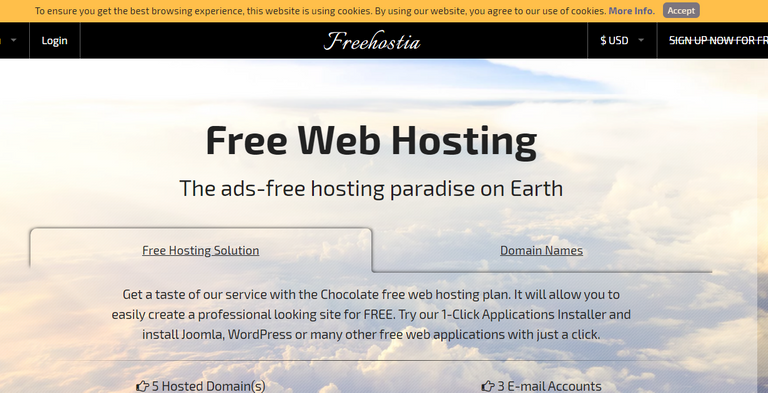 Features of Freehostia
They are not afraid to set clear resource limits and they let their customers know what they are actually getting. There is one problem the limits are quite low.
They offer 250MB webspace and it doesn't stop there.
50MB backup size limit.
250MB mail storage
6GB bandwidth cap
Basically, FreeHostia can accommodate up to 5 domains, but you can use only one MySQL database which is not good to use all the websites because if you want to use all the domains you should have at least 5 MySQL databases if you want to install any CMS.
Performance of Freehostia
As per our tests, we found website speed with Freehostia quite safe. My GTMetrix tests reported a 334ms TTFB and 0.6s onload time, which were some of the best scores out of another hosting we have reviewed.
Pros of Freehostia
One-Click Application Installer
Instant Activation
Full DNS Management
Easy To Upgrade Services
Cons of Freehostia
1 Add On Domain
No Free Sub Domain
Limited resources 50 KB File Size, 250GB Storage
000Webhost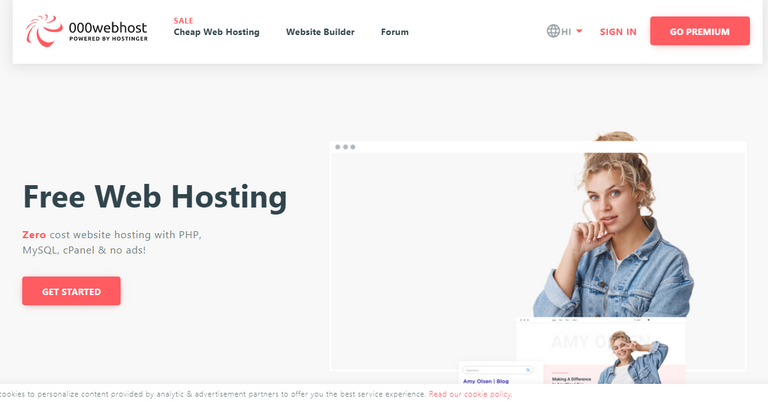 Features of 000Webhost
They offer solid limits of 300MB webspace and 3GB limited bandwidth, which is enough for a small website as well as a more demanding project. There is one problem that they place their link in the footer while you are using CMS like Created on 000webhost.com but if you are an expert in coding then you can remove it from the file manager.
Some features you get for free are:
Control Panel
Your own ads allowed
Free domain hosting
WordPress hosting
Free Website Builder
WordPress Autoinstaller
Almost Unrestricted PHP Support
MySQL Databases
Instant Backups
FTP Support
Web File Manager
99% Uptime
Instant Activation
Latest Cpanel
Free Website Builder with 100s of free web templates
WordPress Auto installer
Getting Started Wizard
Multi-Language Support
Hotlink Protection
IP Deny Manager
Redirect URL
Password Protected Directories
Web-Based File Manager
phpMyAdmin
Performance of 000Webhost
About 000webhost you can read a lot of reviews about a 1-hour schedule for sleep time servers every day. But when tested my website for a month I got a perfect uptime.
Speed results were at slow and onload scores with 1.5s and 1.7s respectively.
Pros of 000Webhost
Host With PHP, MySQL, CPanel
No Ads
Cheap Scalable Plans
Cloudflare Protection
Instant Activation
WordPress or Website Builder Options
Cons of 000Webhost
Poor Performance
300MB Disk Space Only
3GB Bandwidth
No Subdomains
No Email Service
Visited 1 times, 1 visit(s) today