Shopify Review: Are you an eCommerce store owner or going to launch your first eCommerce store? Then you have to check which one is the best platform to launch your first store.
Shopify Review
Here in this article, you will get to know about the best and most widely used eCommerce platform Shopify and its review.
Introduction of Shopify
With Shopify, you can build an online store for any business you want to create an online website/store. Shopify can help you to build your online store more perfectly than ever with their excessive payment gateway integration without any issue.
A lot of payment gateway integration with any type of payment accepted by you and if any issue you have then the Shopify support team is always available for you and also there are various blog posts available on Shopify itself to solve your problem related to Shopify and it can solve your issue immediately but I think Shopify processes are much easy and also that can easily integrate your payment gateway as a payment gateway for an online store is much problematic these days while launching an online store.
On Shopify, you can sell any type of product physical or digital which are downloadable. Also, there is a lot of free themes available on Shopify which can make your store more beautiful and professional.
There are a lot of free tools or applications also available in Shopify to give your online store some extra features and also help you to start your offline business online.
Some of the important free tools are:
Logo Maker– Easily create awesome logos to beautify your store and help to find your brand to your customers and search engines.
Business Name Generator– Generate a business name for your business by giving your business type in the tool and the tool will generate 100 relevant names for your business.
Slogan Maker– If you want to make or if you don't have any tagline or slogan for your business then you can take the help of this tool it will generate almost 1000 slogans for your business and you can use it for your business.
Pay Stub Generator– Generate cloud-based pay stubs for your new business for free no additional cost included.
QR Code Generator– Generate QR codes for your business easily.
Terms and conditions generator– If you are in hurry and don't have much time or your English is weak then you can use this tool to generate your terms and conditions for your upcoming customers for your online business easily.
Business Card Maker– If you need a business card for your business and want to promote your store offline or physically then business cards much useful for you and if you have no knowledge of designing then this tool can be useful for you.
Gift Certificate Generator– Generate gift certificates to build your customers more loyal and spread the love for your brand to your customers.
Invoice Generator– After any purchase, send the free automatic invoice to your customer for free or also you can build or generate the invoice for future use with the help of this tool into Shopify itself.
Purchase Order Template
Privacy Policy Generator– Generate a free privacy policy for your online store easily and save your time.
Refund Policy Generator– Generate a refund policy for your website easily and free which may help your customer to make trust in your online store that you are careful in increasing your brand visibility and customer engagement.
Barcode Generator– Track and organize your products with unique barcodes with the help of a free barcode generator tool.
Image resizer– Resize your product images into Shopify itself for free.
Discount Calculator– Calculate your discounts for your customers easily into Shopify itself and it is easy for your customers too.
There are eight types of store examples or themes available for the Shopify online store:
Home & Decor
Crafts & Books
Fashion
Accessories
Food & Drinks
Electronics
Artworks
Merchandise
Shopify can be used for some reasons also if you want to:
Start your online business– You can create a business when you have a fresh Idea or looking for new ways to earn money.
Move your business online– You can move your offline retail business to an online platform with an easy method and one-click setup.
Switch to Shopify– Easy switch to Shopify no matter which eCommerce platform you are using currently.
Shopify is one of the platforms with all the eCommerce and point of sale features you need to start and grow your business.
Why Use Shopify?
Online Store.
Retail easy
Buy Button
Social selling features include buyable pins, Facebook shop, and messenger.
Amazon Integration
The popularity of Shopify is growing day by day just because of its user-friendliness, the choice of templates and flexibility, and also SEO Features are awesome and all these don't need any technical knowledge to use it.
Simply as per their features and users, Shopify wants to build a hassle-free platform for just setting up eCommerce businesses where anyone can sell, ship, and manage their orders or products easily.
It doesn't matter if you are just going to start or if you are looking for a way to take your business to the next level then this review can help you the most in choosing the right for your online business.
History of Shopify
Shopify was founded by 3 people named Tobias Lutke, Scott Lake, and Daniel Weinand in 2006 but the process of defining and creating Shopify already started some years before.
Overall it started in 2004 when they are searching for an e-commerce platform that looks like they want so they decided to create one for themselves and due to this situation Shopify was into the process. However, during this time, Shopify existed only as an online store only not what you know today as a platform for creating an online eCommerce store.
At that time, Shopify is actually known for SnowDevil where the founders of Shopify sold snowboards.
Shopify got a lot of recognition from many sources, which led it to bigger growth. In the year 2012, Shopify was named Canada's smartest company. And also in 2013, when they made $1.68 billion in sales only. By 2015, sales became more than just doubled.
In simple words, Shopify is an eCommerce website builder and it allows you to easily set up your online store and sells whatever you want physical and downloadable or digital products.  You can easily organize your products, customize your store design with available themes for free and accept payments online, and credit cards, and track the orders within Shopify's dashboard.
Shopify is a better solution for an eCommerce website that provides ready-made online shops you can customize to your content. It has that much capacity to be the feature and out of the box, but not at the expense of drag times.
Payment plans are based on monthly billing, but when you are running a store with profit then these little costs should be negligible for the time being.
Using Shopify is very easy to start the work and setup. You just need to sign up, then you are taken by the hand with step by step process.
At the start, you will get over 100 optimized online store designs and you need to choose the better one which can be useful for your business category. These store designs are optimized by professionals to generate good conversion rates from your visitors.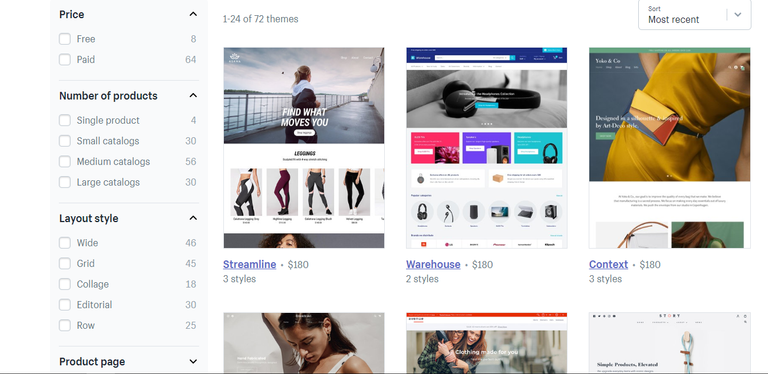 And one more thing Shopify does include web hosting which is another benefit of it. This means you don't need to login to another external web hosting to manage your files you will get all your important and required things into the dashboard and for security, your store was directly hosted on cloud servers which is unknown to anyone.
Shopify uses an optimized server that is built with eCommerce in mind. And also Shopify is known for a cloud-based eCommerce platform.
Is Shopify really easy and simple to use?
The platform of Shopify doesn't share the problem. You don't need to be an expert to set up a shop and anyone can easily launch an online retail store within a matter of minutes.
Third-Party Integration with Shopify
Shopify also offers easy integration with the HubSpot plugin that helps you to get more traffic to your store, which will then increase your revenue much more.
There are many more benefits that come with this integration such as syncing information like products and orders and also getting insight into the new trends of marketing and expanding business in various areas.
Integration is a Shoelace that enables you to retarget your customers to keep them engaged and introduce new ads that are designed for your customer base. Another useful advantage is that you can connect this with your social media platform to sync all of your messages.
Klaviyo is known for its personalized marketing that can boost your sales and engage subscribers and add automated flows, send personalized coupons, and also an alert for the availability of products in stock.
You also have the option to connect your Shopify store to social media platforms like Facebook for facebook shopping and also Google Shopping integration made it easy to sell your products directly from Google itself through Shopping features.
How Does Shopify Works?
After filling out the signup form (Name, Email, etc.), you will get to use Shopify to set up the process of your eCommerce store. Firstly they will ask you about the things for which you're going to be selling: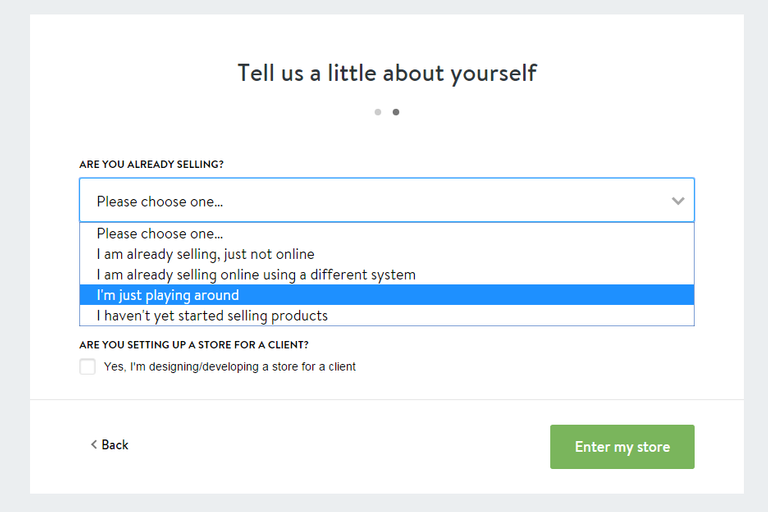 Next, you'll get to choose what you want to create with Shopify like Creating an online store or making an eCommerce store from your existing website, etc.
And after that, you have to select the theme which you want for your store from the provided options.
You can customize your theme from the appearance/theme option then you will see customize option and from there you are able to choose themes, publish another theme, and publish changes with the new theme by going to the setting option in the theme. From the theme customization option, you can change your brand logo which you have created from the Shopify tool (Discussed above) or any other custom brand logo which you want to put into your store, customize featured products, On sale products, sliders, and many more design related things without any coding knowledge.
After that you have to create a menu bar for your store, you will see on the left sidebar an option to create pages and also include it in navigation from the setting of pages itself.

And if you need other settings like payment gateway integration, store location, store address, etc, you will find all required settings in the left sidebar setting options.
For the dashboard of all your analytics, you can just click on the Home or dashboard button and you will be redirected towards your dashboard.
Adding your products to Shopify is also much easier than on other platforms as you can see left sidebar options, products-> add a product then you can see there is an option to add title, description, product image, decide to price, add featured image of your product. And also if you need to add digital products as an attachment then you need to install a free app from the Shopify app store named- download product and then after this, you can attach the downloadable product or file into the option provided at the top and just click on it and then you will be redirected to another page where you can select the file you want to sell like .zip file, images, pdf files, videos, mp3, etc.
Features of Shopify
Sell your products everywhere: Use Shopify to sell your products to anyone and everywhere like any online marketplace with easy integration.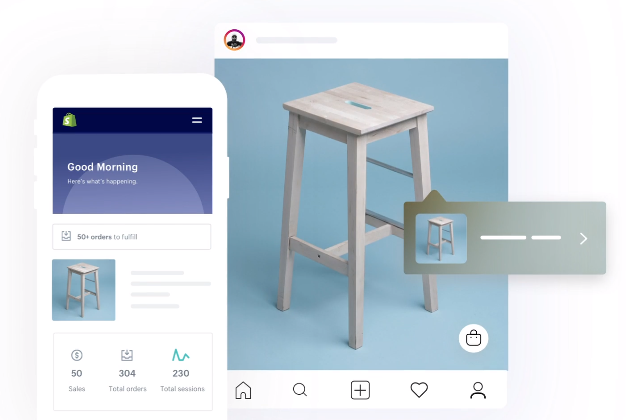 Easy do marketing of your business: Use if to do any type of marketing like sell on Facebook, Instagram, use google shopping and it also includes some built-in tools that help you to create, monitor, and analyze your campaigns.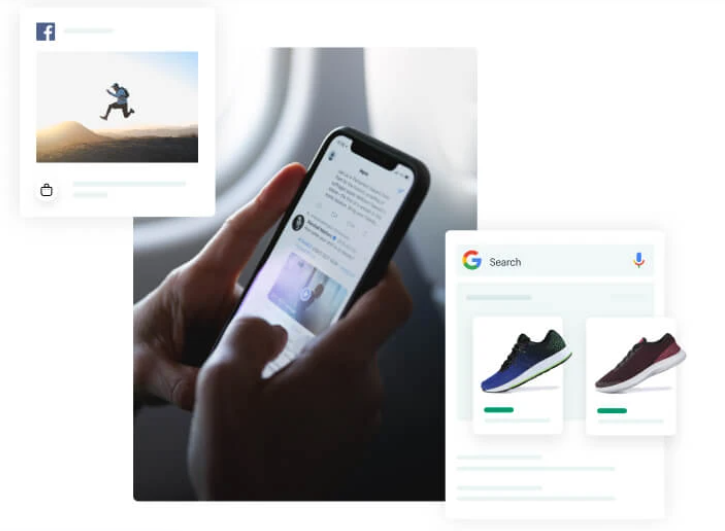 Why Shopify Ecommerce Platform is highly recommended?
Great Load Time
Quick Setup
Easy Migration
Easy Payment Gateway Integration
Addons
Custom Domain
Great Designs
Shopify is the best and most known platform for small and midsize businesses (SMBs) and also Shopify is a high-rated solution that has everything that a merchant or seller or store owner needs to set up their online shop and even offline. Shopify also allows you to easily integrate with social media selling tools and integration with amazon also.
Shopify also has enough payment capabilities that can enable any merchant to accept credit cards directly from Shopify such that no third-party accounts are needed for this. With payments offer, payment details are directly synced with the orders which makes it easy to see how much you have been paid without leaving Shopify and it's on your dashboard panel.
Credit card rates range from 2..9% to 2.4% depending on the Plan to which you have subscribed to.
Official Shopify Price
| | | | |
| --- | --- | --- | --- |
| Shopify Pricing Reviews | Shopify Basic | Shopify | Shopify Advanced |
| Monthly Price | $29 | $79 | $299 |
| 1 Years Price | $26.10 | $71.10 | $269.10 |
| Savings (%) | 10% | 10% | 10% |
| 2 Years Price | $23.20 | $63.2 | $239.20 |
| Savings (%) | 20% | 20% | 20% |
Pros of Shopify Store
Automatically hosted on cloud servers, don't worry about server maintenance and downtime and also about costs.
Very easy to use and user-friendly.
Great free themes are available
Very low monthly fees
Numerous Shopify partners are present for your support.
Very high engaged community on Shopify.
Many options present for third-party integration from Shopify
Multi-channel retailing is much easy.
Cons of Shopify Store
Additional transaction fees for external gateways
No free plan is available
Limited customization
Conclusion
You can use Shopify easily and no coding knowledge is required. Shopify allows you to build your eCommerce store with easy migration from other platforms and is easy to use and set up. It's very useful when you didn't want to worry about your store domain, management, and server maintenance. It's 99.9% uptime from Shopify hosted eCommerce store.
Visited 1 times, 1 visit(s) today