Joomla Hosting Providers: Joomla is one of the most popular and secure CMS and there are quite a few hosts that support it. However, selecting the best Joomla hosts can be the biggest challenge for you. Many people love Joomla, but nobody wants to spend a couple of months sifting through bad web hosting providers.
For just save your time and money, we have analyzed a list of providers that claim to have a great platform for Joomla. So keep reading to find out which hosts can be better for you to host your Joomla website on it and which you should avoid.
Joomla Hosting Providers
Before starting the review and detail for every hosting we want to let you know about how we have evaluated the best Joomla Hosts:
Here are the steps we have followed for choosing our Joomla Hosting:
Check reputation
Go through the terms of service
Check out hosting features
Set up a Joomla website
Test the support
Check user reviews
So, Let's begin with our list of best Joomla Website Hosting Providers:
Cloudways
Cloudways is a managed cloud services provider in terms of web hosting for PHP-Based CMSs like WordPress and Joomla.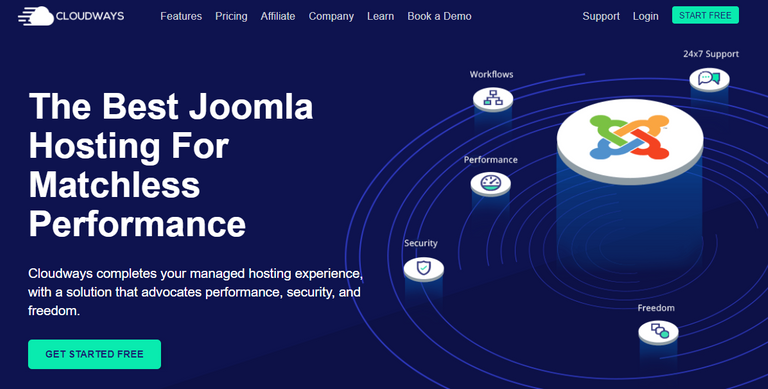 Cloudways Performance
Cloudways performance is very hard to test. Cloudways lets you host apps on top public cloud providers like AWS, Digital Ocean, Google Cloud, Vultr, etc. Meanwhile, Cloudways offers professional management for Cloud servers. It's extremely fast and high uptime. For e.g., Netflix hosted on AWS, and did you heard anything about Netflix was down or speed issues in Netflix? The answer is No.
This managed Joomla hosting adds PHP 7 support, Cloudflare CDN, and Memcached, Varnish, and Redis caching mechanisms. This lets you get excellent load times with some extra optimization.
Customer Support in Cloudways
Cloudways offers a solid support team that is available 24/7 for you with virtual servers. Their tech support takes care of various things like virtual machine management, backups, and server maintenance. You can contact them anytime if something is not working properly or if you need something like learning materials.
You can also get any application-level support for Joomla. Their support team can help you in troubleshooting themes and plugins and optimize the CMS Performance for you.
Cloudways Features
This hosting runs a smooth management panel. This enables you the things like SSL Installation, server scaling options, and automated backups. You can also set up a custom backup schedule.
You will also get a ton of other security features. This includes a specially configured firewall, auto-healing servers, IP Whitelisting, and more.
Cloudways lets you scale server resources up or down on the go. You have to pay for the resources by the hour, so you can always get the exact allocation you need.
These features make Cloudways one of the best Joomla hosts if you're unsure how many resources you'll need.
Cloudways is an excellent solution with unique advantages. You can get a flexible platform for your Joomla site.
Cloudways Pricing
Pros of Cloudways
Runs on excellent cloud infrastructures
Insane scalability and reliability
Excellent support
Optimized server stack
Pay-as-you-go pricing
Cons of Cloudways
Pricy for starting out
The proprietary CDN is paid extra
BlueHost
Bluehost is one of the popular web hosting service providers for CMSs. There is no way around it. It works for over 80 platforms which include Joomla too.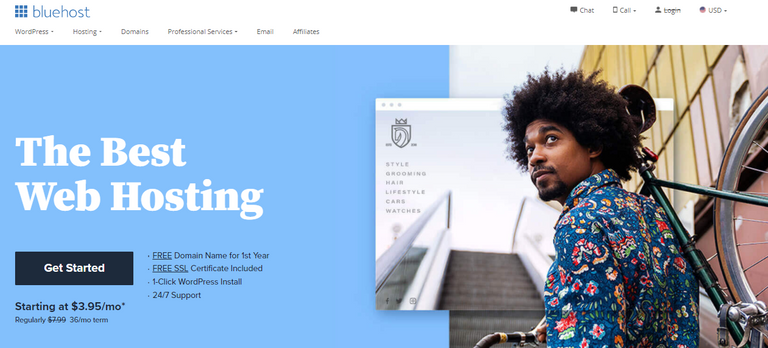 Performance of BlueHost
Bluehost has a 99.9% uptime guarantee. Most providers also offer this, so it's easy to see the source of the mix-up.
While Bluehost says it resolves most downtime issues within 15 minutes, it offers no guarantee. This is strange as most of their competitors offer at least small compensation for excessive downtime.
Not to worry, though. Bluehost's actual uptime falls around 99.95%. Bluehost doesn't tailor speed optimization tools specifically to Joomla web hosting. However, its configuration makes Joomla run fast even without speed optimization tools.
Customer Support of BlueHost
Bluehost support team feel personal despite servicing over a million users. Their agents take their time to review your issues and to give you the best possible answer.
Bluehost has many CMS experts in its support team. They have many experts that understand Joomla better and are available to help users with any technical issues.
Unfortunately, the knowledge base offers a few Joomla guides. Instead, Bluehost always points you to Joomla.org for documentation. You can get some general Joomla help there.
Features of BlueHost
In BlueHost, you will get a one-click installer for Joomla with speed optimization and security. Joomla server stack also optimized for the best performance.
BlueHost also offers some very advanced account access features. It can be very helpful when you need multiple users to access the admin panel which is important for larger Joomla websites.
Some basic features you will get:
50 GB SSD Storage
Unmetered Bandwidth
Free SSL Certificate
Standard Performance
FREE Domain for 1 Year
Automatic Daily Malware Scan
Free Google Adwords credits
BlueHost Pricing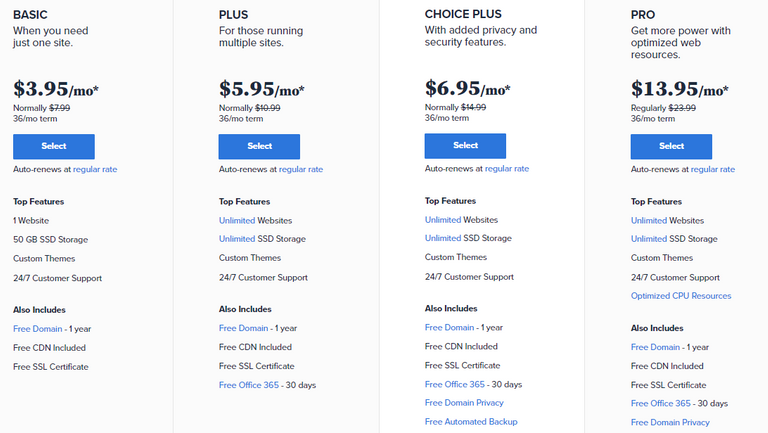 Pros of BlueHost
Lightning-fast platform
Awesome features
Cons of BlueHost
Costly website migrations
No Joomla guides in the knowledge base
SiteGround
SiteGround used to be Joomla's demo hosting provider—meaning you could get a free Joomla site from it. Although this isn't the case anymore, the hosting provider is still an avid Joomla supporter and one of its top contributors.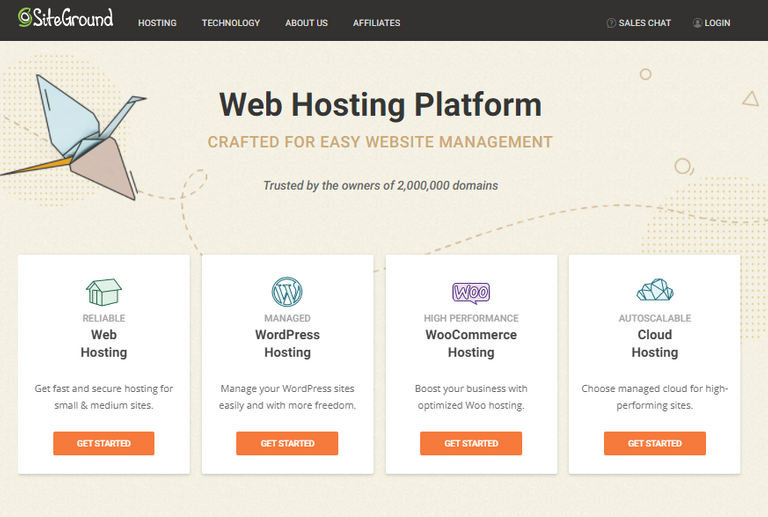 Here's how its plans benefit Joomla users.
Performance of SiteGround
SiteGround offers a 99.9% Uptime guarantee, and if they can't provide 99.9% uptime then they will offer you a month of free hosting.
Their infrastructure delivers 99.99% uptime. You can also expect a few minutes of downtime per month.
SiteGround is the fastest web server and their server response time is under 0.2 seconds this year. Their server stack is optimized for Joomla, so you can get impressive server response time and loading speed as well.
In terms of Overall performance, SiteGround is among the best Joomla Hosts.
Customer Support of SiteGround
The customer support of SiteGround is a highlight of this hosting which is available 24/7 and responds to all queries immediately. They offer live chat support in which waiting time doesn't more than 10 minutes and it's only for some time not always and also you can also call them via phone.
SiteGround also has a number of Joomla articles in its knowledge base.
Features of SiteGround
You will get all the basic features like SSD Storage, an SSL Certificate, Security features, and a control panel.
SiteGround leads to impressive performance. It provides a custom Joomla Caching solution. Their other custom solution is the jHackGuard Joomla extension which provides an additional layer of security against SQL Injection, remote code executions, and XSS-Based attacks.
If you want to use Joomla for e-commerce then go with the biggest plan. And in that plan, you will get the advantage of the PCI-Complaint server and all additional speed with security features.
Some Basic features include:
Unmetered Traffic
Free SSL
Daily Backup
Free CDN
Free Email
Unlimited Databases
100% renewable energy match
30-Days Money-Back
SiteGround Pricing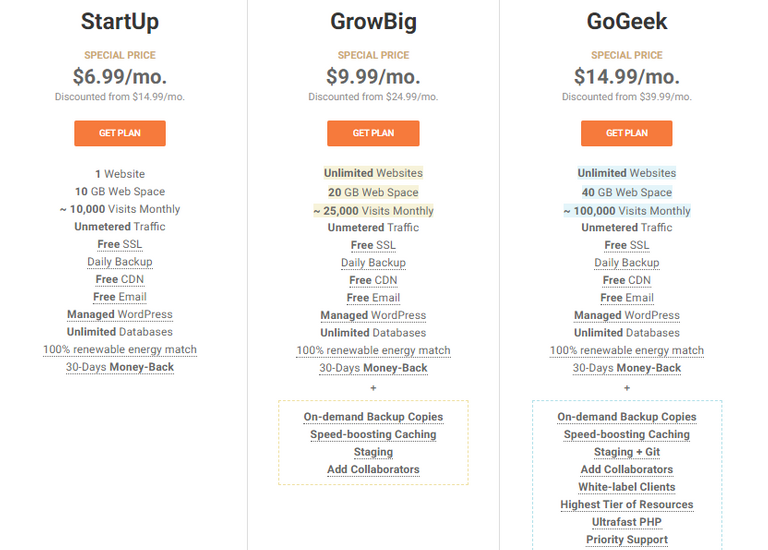 Pros of SiteGround
Top-notch support
Excellent Joomla-specific features
Top performance
eCommerce-ready
Cons of SiteGround
Somewhat limited starter plan
A2 Hosting
A2 Hosting services provide speed and performance. It's also a Joomla sponsor and offers to host for it.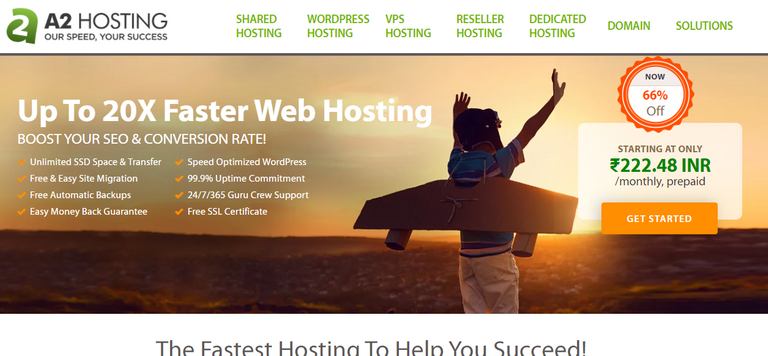 Performance of A2 Hosting
A2 Hosting provides guarantee of 99.9% uptime and the actual uptime stays above 99.99% which is almost perfect.
Average response time is 0.54 seconds, the basic page load time is 1.15 seconds. This seems to be reasonable but a few of the best Joomla hosting providers are faster.
Customer Support of A2 Hosting
Their customer support is awesome. They are available 24/7, and customer support agents are much knowledgeable about CMS Hosting. They are basically prefer solving your issues themselves rather than answering your questions. They have much experience of Joomla and they can quickly resolve your easy to difficult queries.
Features of A2 Hosting
Unlimited SSD Space & Transfer
Free & Easy Site Migration
Free Automatic Backups
Easy Money Back Guarantee
99.9% Uptime Commitment
24/7/365 Guru Crew Support
Free SSL Certificate
A2 Hosting Pricing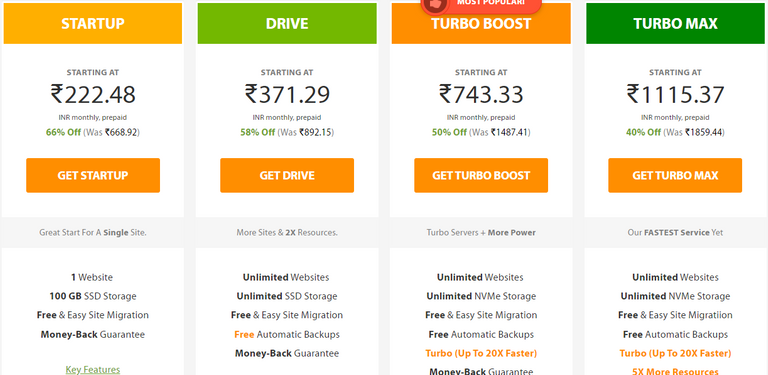 Pros of A2 Hosting
Top performance
Effective support team
Cons of A2 Hosting
DreamHost
DreamHost has a commitment to the open-source community, so all of its hosting services are built with open source. Joomla, as a leading open-source application, thus is well supported by this web host.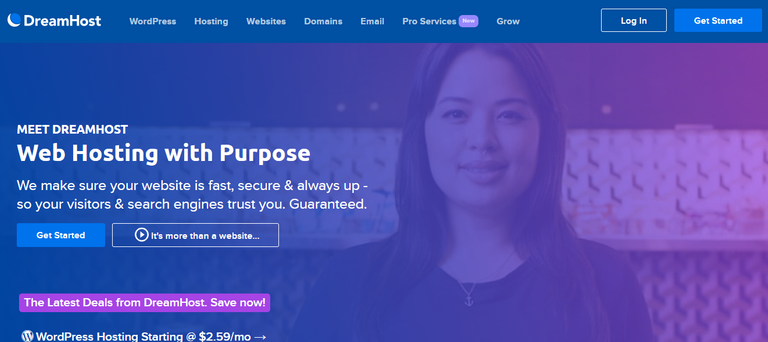 Performance of DreamHost
DreamHost guarantees 100% server uptime which excludes the scheduled maintenance. If your email, webmail, SSH, FTP, or database is not working just due to a failure of the server or network then you can ask them for a credit of a 1-day hosting fee for each hour of downtime.
Customer Support of DreamHost
DreamHost offers technical support by various means. If you have some urgent issues then you can start online chat from your control panel or you can also submit a support ticket and they usually respond within 2 hours.
Features of DreamHost
SSL secured server and SSH access
Perl, Python, Ruby, SSI, and CGI
IPv6 support
The access to log files
Fast SSD Storage
Free SSL Certificate
Add Email as low as $1.67/mo
Free Domain
DreamHost Pricing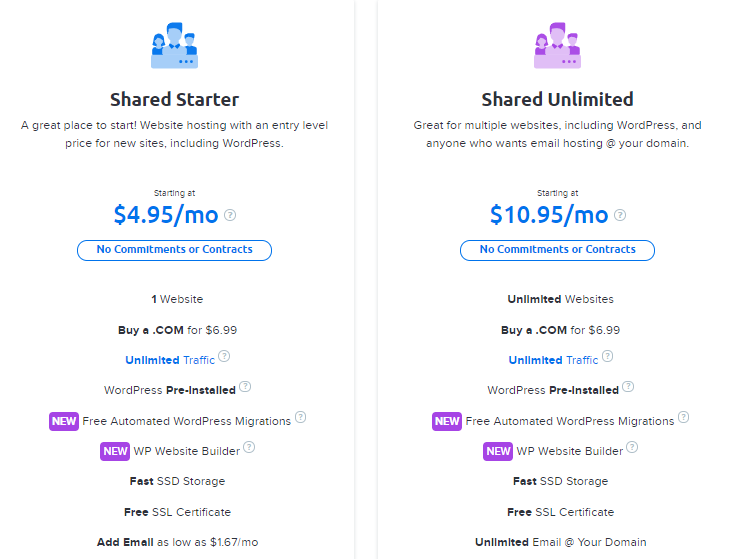 Pros of DreamHost
Monthly billing available
Good Loading speed
Average Uptime
Free SSL
Cons of DreamHost
Too Costly
Email accounts are not free
Renewal costs also high
No option to choose data centers outside the USA.
Limited Live Chat option
InMotion
InMotion hosting is one of the most popular and leading independent hosting providers.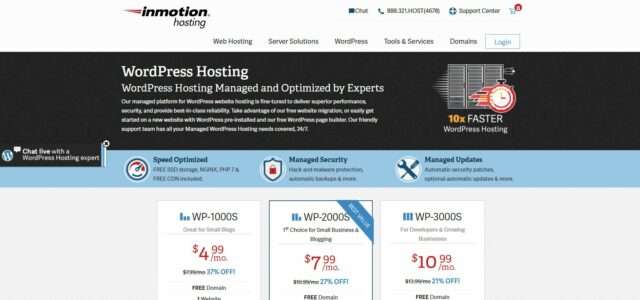 Due to this, InMotion gets better each month for the time being, while many other providers are stuck in the same position.
Performance of InMotion
InMotion Hosting provides a 99.9% uptime. InMotion Hosted websites speed depends upon the location of your audience. InMotion Hosting has two servers in the U.S and you can host your Joomla website for your US audience and deliver your content quickly. They have a product which is Max Speed Zones which can reduce latency issues, but this also gets mixed results. Their server response time is also better which results in decreasing the loading time of any website.
Customer Support of InMotion
You can contact their support via live chat and Skype also. Experts on the support team of InMotion are much knowledgeable about Joomla and want to help with your website anytime. They also offer a knowledge base which is also with various Joomla articles.
Features of InMotion
Basic features you will get in all of their plans:
Easy Google Apps Integration
One-Click Installs of 400+ Applications
Free No-Downtime Website Migration
Free Website Builder
WP-CLI Enabled
Money-Back Guarantee
Free SSD Storage
PHP 7 Supported (up to 3x faster load times)
Max Speed Zones
Easy Control Panel
Powered by UltraStack
Spam Experts
Safe Application Roll-Back
Backup Manager Available
SSH Access
Free SSL Certificate
24/7/365 U.S.-Based Support
Hack & Malware Protection
InMotion Pricing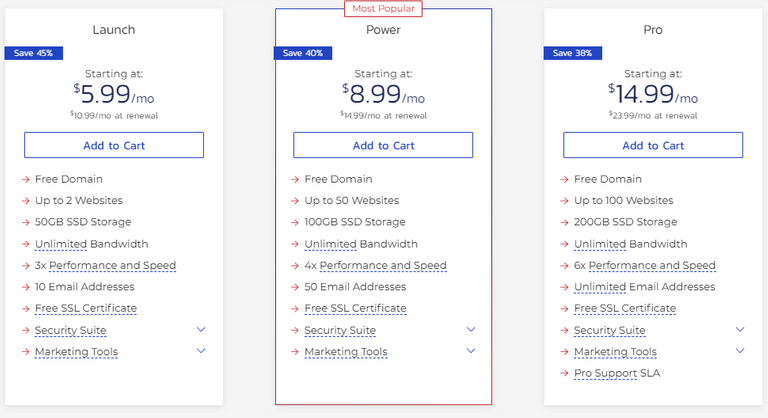 Pros of InMotion
A top performer in the US
Excellent features
Great scaling
Expert support
Cons of InMotion
Relatively low inode cap
Suboptimal performance outside the US
Hostinger
Hostinger is one of the popular hosting service providers and it also provides free hosting for a year with its copyright at the bottom for various CMSs. Their hosting services are also much popular for their cheap plans and discounts.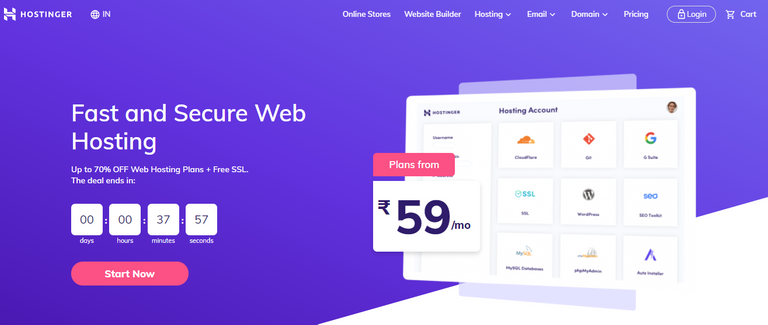 Performance of Hostinger
Hostinger's uptime is always above 9.9% which is better. This hosting offers the standard 99.9% uptime guarantee and refunds 5% of your hosting fee if it fails to provide that much uptime which is trustable.
Hostinger's speed is impressive. This provider scored a responsive time of 0.19 seconds and required speed for loading a page in 0.68 seconds.
The speed of any website falls when your website has high traffic but this hosting doesn't slow down your website much.
Customer Support of Hostinger
Their customer support team is available 24/7 from live chat and ticketing system although they don't offer support by phone.
Features of Hostinger
Features offered by Hostinger in their most popular plan:
100 Websites
100 Email Accounts
Unlimited Monthly Visitors
2X Allocated Resources
Free SSL Certificate (₹885/lifetime value)
Free Domain (₹1,089/yr value)
LiteSpeed Cache
WordPress Acceleration (LSCWP)
Cloudflare Protected Nameservers
Github Integration
24/7/365 Support
99.9% Uptime Guarantee
DNS Management
Access Manager
Unlimited MySQL Databases
100 Subdomains
Unlimited FTP Accounts
Unlimited Cronjobs
SSH Access
Weekly Backups
Hostinger Pricing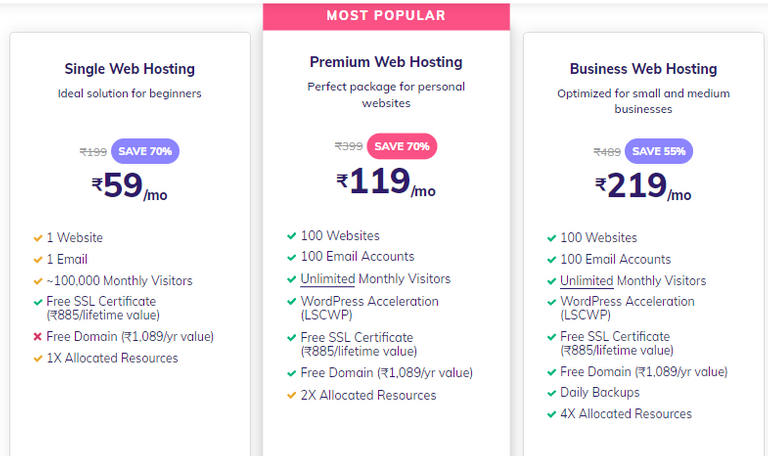 Pros of Hostinger
Amazingly affordable
Fast servers
Decent resource allocation
Solid control panel
Cons of Hostinger
Poor support
Few features for Joomla
HostGator
HostGator cares for over 10 million domains over the world. HostGator is one of the largest hosting providers. HostGator has a bit of a shaky reputation. But this host did make various improvements in the last few years.
HostGator Performance
Practically HostGator demonstrated perfect uptime. HostGator is one of the most reliable hostings among the others that host Joomla sites.
They offer 99.9% uptime.
Their server speed is just average. HostGator scored the best load speeds and response times under load about tenth out of seventeen. You will get decent load speed and have good response times under load.
Customer Support of HostGator
Every hosting quality starts with support. Their support can provide help with Joomla 24/7 but it's some kind of slower than others. Their agent does not really know much more about the product. They also provide a knowledge base with a few dozen articles on Joomla.
Features of HostGator
Their most recommended plan includes the below features:
Unlimited Domains
Unmetered SSD Disk Space
Unmetered Transfer
Unlimited Email Account(s)
Unlimited Databases
Free Positive Comodo SSL
Free .Net Domain for 1 Yr
Free Dedicated IP
HostGator Pricing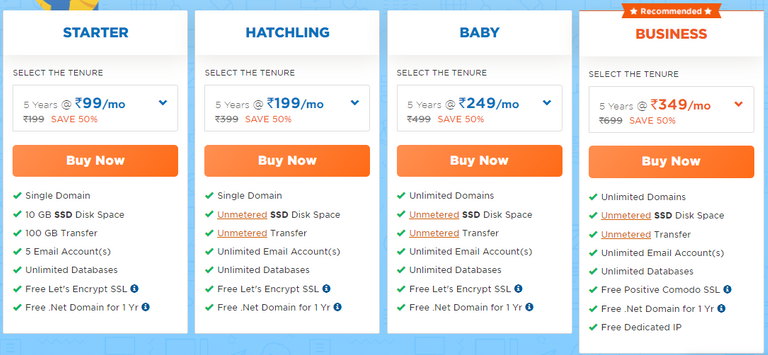 Pros of HostGator
Reliable servers
A few decent features
45-day money-back guarantee
Cheap Pricing
Cons of HostGator
Mediocre support
Little in terms of unique tools
MilesWeb
MilesWeb when started then they are just a local host in India before breaking out into the global market. Do you know, today it runs various data centers worldwide and also provides management on some of the top public cloud services.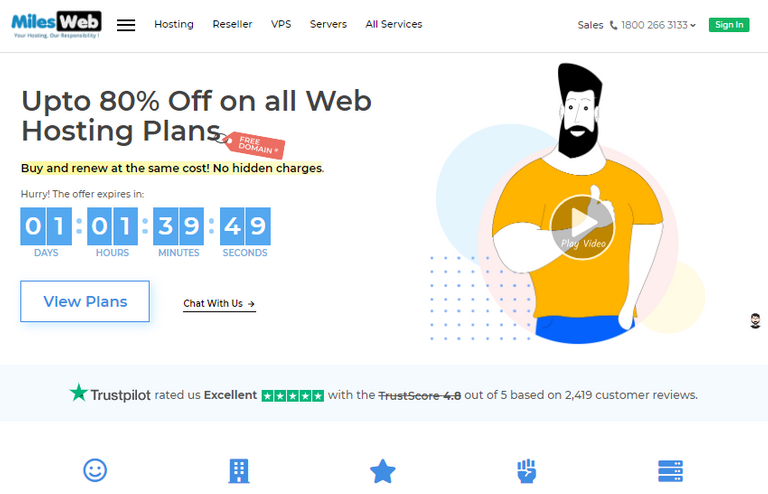 MilesWeb Performance
MilesWeb's Joomla plans run on AWS and not on their own servers. If you are familiar with AWS then you should know the platform performs excellently. This host guarantees a 99.95% uptime and they don't get you down more than 20 minutes per month.
AWS Servers can get you a worldwide presence and the fastest speed too.
Customer Support of MilesWeb
They offer their support from live chat and phone and these are available on the main page. MilesWeb customer support agents are there to answer your queries too quickly and 24/7 anytime.
Their agents are too quick and also they provide a link to the knowledge base which can solve your issue and help you better.
Features of MilesWeb
Host 1 Website
1GB SSD Disk Space
Unlimited Bandwidth
cPanel Control Panel
Softaculous 1-click Installer
Free Drag and Drop Sitebuilder
Unlimited Sub-Domains
Unlimited Parked Domains
Unlimited SSL Certificate
Unlimited FTP Users
Virus Scanner
Image Manager
10 Email Accounts
Site Builders
MilesWeb Pricing

Pros of MilesWeb
AWS servers
Decent features
Free Joomla migration
Solid knowledge base
Cons of MilesWeb
Kind of pricey
Bare-bones starter plan
No money-back policy for the Joomla plans
HostPapa
They are a green hosting company that mainly focuses on helping small business owners. Their solutions provide greater speed and security for eCommerce websites.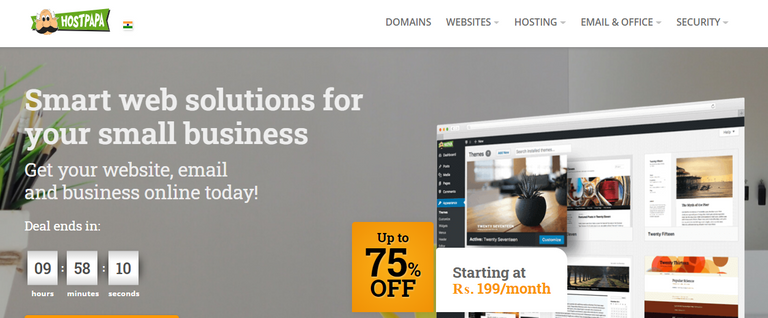 Let's see what its web hosting for Joomla offers:
Performance of HostPapa
HostPapa provides a 99.9% uptime guarantee but they don't offer any refund policy if it doesn't get 99.9% in uptime.
This hosting provides high speed and like others, they also get slow when your website gets high traffic but their server response is better and also load time doesn't look bad. Their stack is almost optimized specially for Joomla, so HostPapa is one of the best Joomla hosts in terms of response time and load speed.
Customer Support of HostPapa
Their customer support is available 24/7 through phone calls, live chat, and email. Their support agents are well known about Joomla and they will be able to answer all of your questions much faster than others and also they can solve your complicated problems as well.
When you are a new customer then they will provide you a 30- minutes one0on0one call with an expert which serves as a course in website ownership and is perfect for a Joomla website hosting.
Features of HostPapa
Features of the Most popular plans of HostPapa are:
Unlimited websites
Unlimited SSD Storage
Unlimited Bandwidth
Free Domain Registration
Mobile-friendly responsive design templates
One-click app install
Unlimited Email accounts
Unlimited Email forwarding accounts
Unlimited Email autoresponders
Email aliases
Email virus scanning
Business-grade email available
Free Let's Encrypt SSL
Enhanced SSL certs
24/7 FTP access
phpMyAdmin
Softaculous script installer
HostPapa Pricing

Pros of HostPapa
Performs well
Attentive support
Excellent eCommerce features
Great for beginners
Cons of HostPapa
Automated backups are a paid feature
Unclear uptime guarantee
Closing Words
When you are going to select any hosting for your Joomla website then you should check about the uptime, storage, security, speed, and user reviews if you have found the best hosting then you can select one but there is no guarantee you will get overall best hosting as every feature may vary from one another.
Visited 1 times, 1 visit(s) today