Unbounce Review: With the help of Unbounce, you can create and design beautiful Landing pages that will convert leads for you with their pre-built landing page templates, and more features are built it to make sure your website visitors converted into your customers.
Unbounce Review
They have features like:
Build Any Page on Your Own
Create the Exact Page You Want
Continually Grow Your ROI
Popups builder
Landing page builder
With Unbounce, you can create custom landing pages without a piece of coding knowledge. Also, you can get the highest converting campaigns possible with Unbounce Conversion intelligence and the latest AI Feature and smart traffic.
As we all know websites are great for information and exploration, Unbounce can turn your website's traffic into revenue, which we will discuss here. With Unbounce, you can create and optimize your dedicated landing pages that focus your visitors on one goal instead of bouncing them back from the distractions.
With an easy drag and drop landing page and popup builder and also with the help of 100+ landing page templates, you can easily bring any of your campaign vision to life in just a fraction of the time it will take with a developer.
And also design pages that look and act almost 100% the way you want to create. You can put any looks and functionality you want with the customizable templates with optional Javascript and CSS for both mobile and desktop versions.
With Unbounce, get a built-in AI Conversion power with smart traffic and A/B Tester for your landing pages to see what's exactly working. You can experiment with messaging, designs, and forms to validate what makes more visitors can convert.
Why did we start using Unbounce?
It all comes down to the time it takes to design and develop new pages. Basically, landing pages were useful when we need to promote new products and any services.
You often need multiple landing pages at any one time and also for different products or websites, PPC campaigns, and email marketing campaigns.
With Unbounce, you can give your marketing team the power to create landing pages quickly and the key is Unbounce. It's easy and quick.
Your first landing page design never gets the best results but practice and experiments do with A/B testings.
To maximize the performance of your landing pages you need to optimize and test on an ongoing basis and this simply means you should create multiple variations for every landing page you build.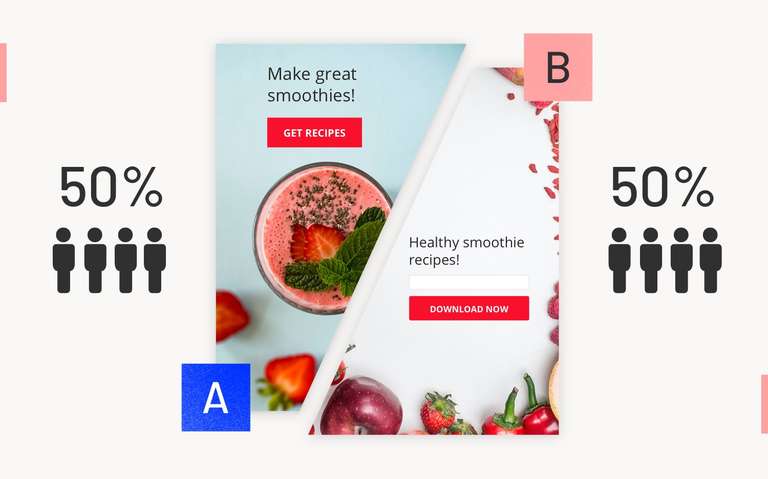 You should know that Unbounce comes with unlimited A/B Testing on all of its plans and you can use it for your landing pages built-in A/B Testing tool and you can do enough with the use of a single platform.
Also, Unbounce comes with a unique feature which is Dynamic Text replacement which can make personalization fast and easy to implement.
Unbounce is a conversion-driven platform
There are various types of landing page builders in the market but one of the things about Unbounce is that it is a purely conversion-driven platform. The whole point of creating landing pages is to convert the visitor into your customers or leads and pay customers.
As I have already mentioned that Unbounce comes with unlimited A/B Testing which is a very useful tool for optimizing conversions with landing page variation experiments. But it also comes with Built-in tools designed only to capture more leads which include pop-ups, sticky bars, and AI Optimization features.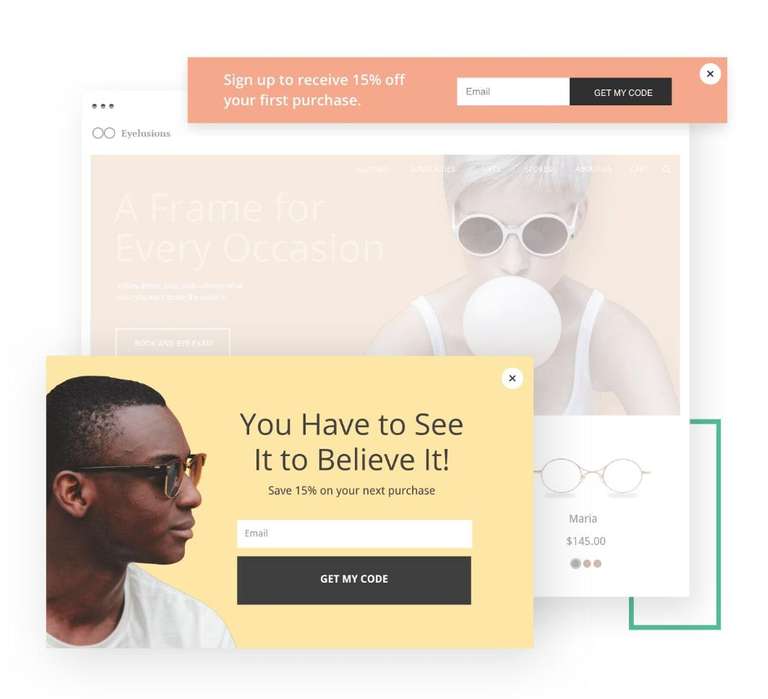 Unbounce Pros & Cons
In my point of view, Unbounce is a great software and there are various good things to say about it. There is always a need for improvement in many cases as we have pointed out all pros and cons we have experienced while using the platform.
Unbounce Pros
You can build and publish landing pages very quickly.
You can easily create variants for testing.
Excellent templates and various third-party sources for more templates.
Highly Customizable.
Awesome Landing page builder.
Split testing functions are very good.
Unbounce Cons
Form builder of Unbounce lacks some key features.
You can't do a split test for your existing landing pages created outside of Unbounce.
You can't add custom classes to buttons in Unbounce which prevents tracking goals.
If Unbounce lets you do a split test of the landing pages built outside the Unbounce then this would be a great win and the ability to add custom classes to buttons can save a lot of time as well.
But overall, Unbounce can save you more time than it costs and once you are running with this platform then you can do things easily. The landing page builder is great and the templates available are excellent you can also get the freedom to customize your landing pages.
Also, I must include the split testing feature which is solid and too sure that they are not extensive as a dedicated piece of A/B testing software but it is a strong offering for a landing page builder and also you can get more features than most of the alternatives.
Unbounce features: More than a landing page builder
As I have already explained above that Unbounce is a landing page builder primarily so the platform offers a set of features beyond its builder and many of these are very important when it comes to create and optimize landing pages like A/B Testing.
Here is the list of features offered by Unbounce:
Landing pages
Popups & sticky bars
A/B testing
Reports & analytics
Dynamic Text Replacement
Smart Traffic
AMP landing pages
Lead form builder
Let us explain every feature:
Landing Pages Builder of Unbounce:
With Unbounce Drag and drop, the landing page builder can make sure anyone anytime can pick up the tool and start creating pages without any coding knowledge or using any designing software.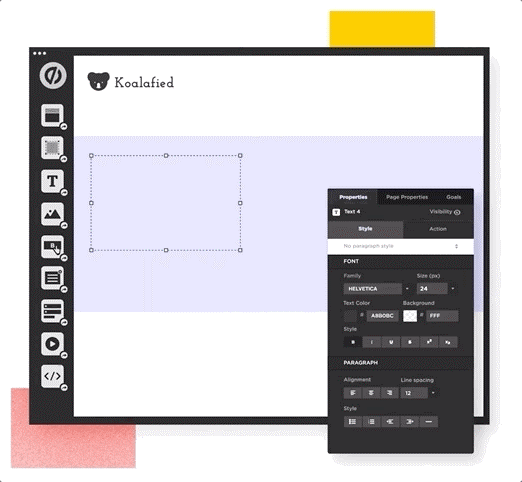 You can choose from a lot of templates to get started and customize them to meet your needs easily and quickly. Also to speed up the design process, you can clone and edit the entire pages, copy and paste them and save your own templates for next time.
Features of landing page builder are:
Drag-and-drop builder
100+ templates
Clone & edit
Copy and paste
Full control
Quick publishing
Popups and Sticky Bars
After landing page builder, Unbounce also comes with its own sticky bar and popups builder which can be used for boosting conversions so there is no denying that they can increase your conversion rates when used effectively.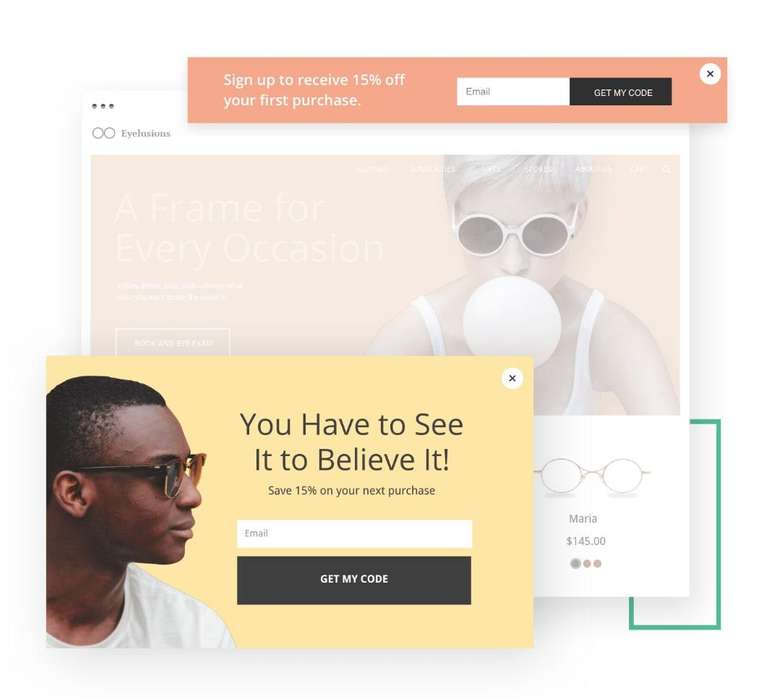 Features of Popups and sticky bar builders are:
Drag-and-drop builder
Templates
Targeting & triggers
Schedule
A/B testing
A/B testing from Unbounce
Unbounce provides various A/B Testing features on all of its plans which allows you to optimize your landing pages and popups for maximum performance.
You can set up A/B Testing campaigns within some clicks to test entirely different pages, variations like the same page with or without a lead form or specific elements like call action feature, etc.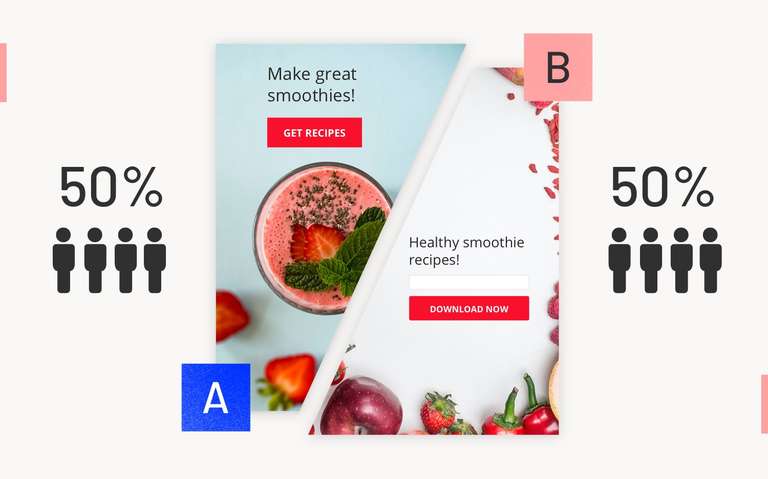 Report & Analytics
This software provides insights into how your landing pages are performing and how your A/B Tests are going. You can access all of this in the dashboard but you will get the best results with the integration of Google Analytics.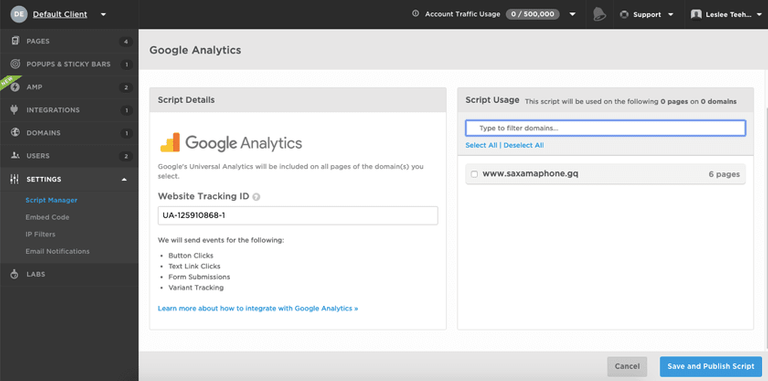 You can easily find the documentation on how to integrate Google Analytics with Unbounce but all you really need to do is get a tracking id from Google Analytics to enter into Script Manager, which you can find under settings.
Dynamic Text Replacement
This feature helps in landing page personalization. The feature matches the copy of the landing page based on the keywords typed by the users before clicking on your ads.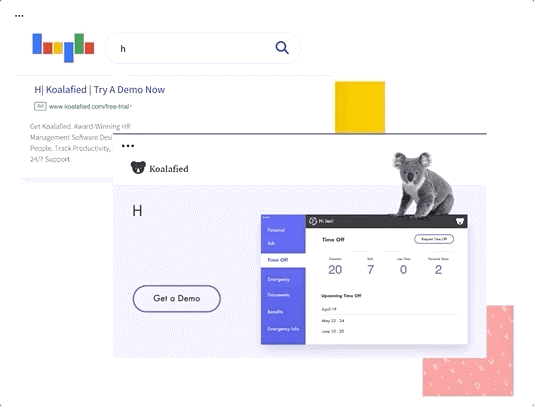 To set up your dynamic text replacement in Unbounce, you can simply select the text you want to apply it to and then click the dynamic text button.
Smart Traffic
Smart traffic is an AI-based conversion tool that automatically looks at each visitor's attributes and directs them to the most relevant pages. The algorithm looks at attributes like user location and their device to determine which variations of landing pages will be more effective than others.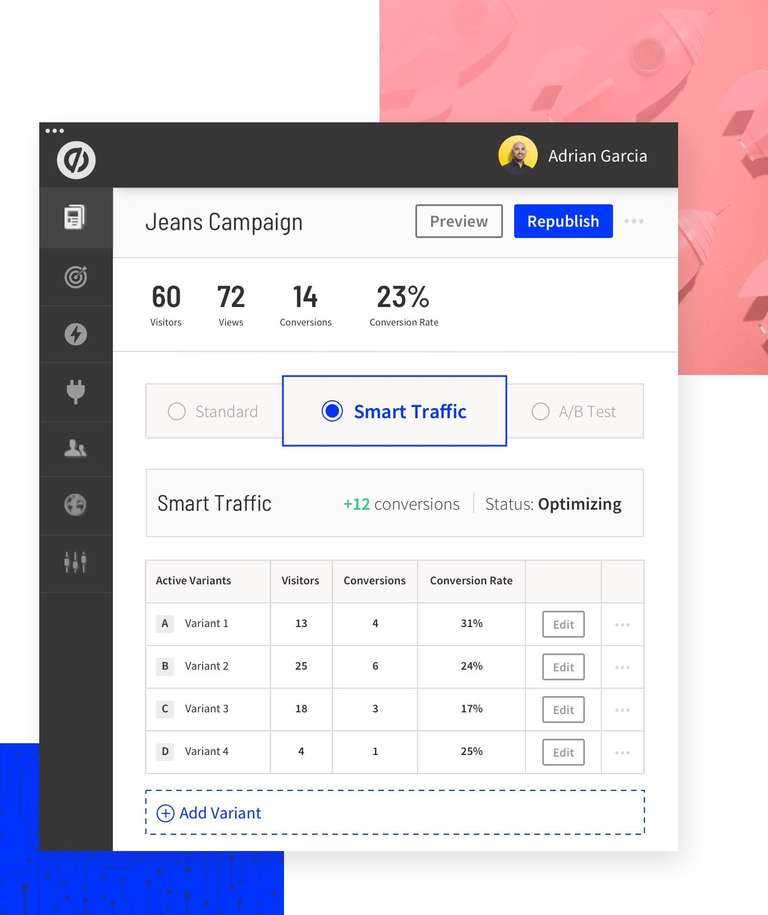 Features of Smart Traffic Tool:
AI optimization
Automated CRO
Fast results
AMP landing pages
Unbounce was only the first landing page builder which supports AMP landing pages. Accelerated Mobile Pages are just designed to make the web pages faster for mobile users, especially which increases loading speed to an average of just a second.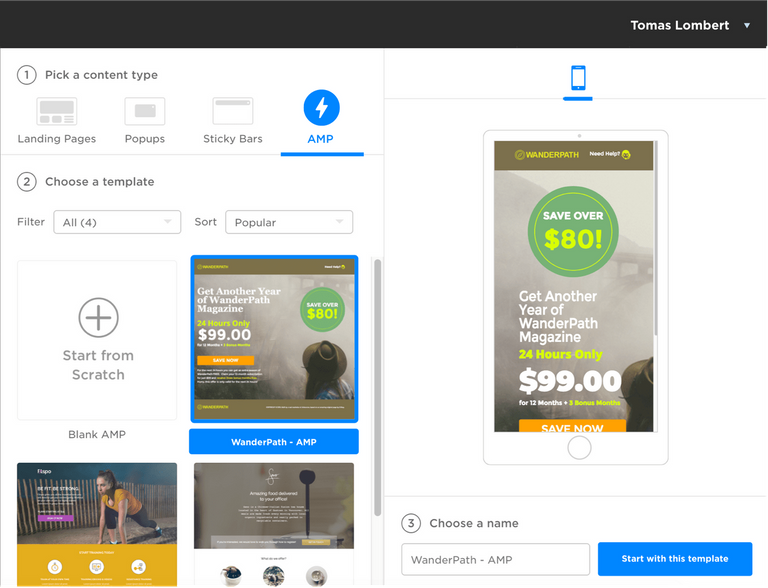 Create AMP landing pages
AMP templates
Up-to-date
Unbounce makes it easy to create and test and optimize AMP landing pages in the same way you can do with any other page builder platform.
Lead Form Builder
This builder also comes with its own form builder which allows you to add lead generation forms to any page. And also this feature is included in a landing page builder.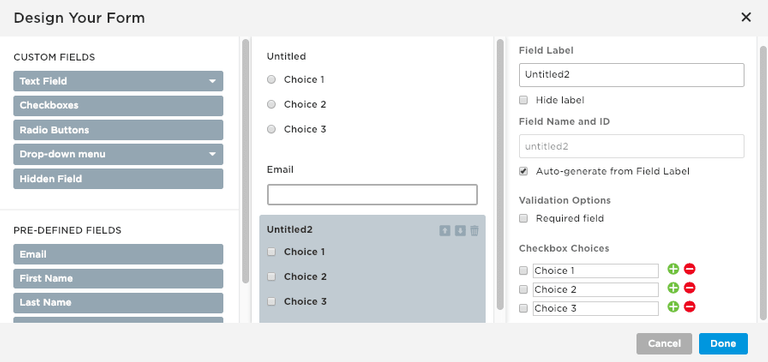 You will get better results from a form builder and optimization tool that operates. And this is the area where you really need a specialist toll to maximize conversions. It also helps in the integration of Leadformly with Unbounce so you can embed your forms on landing pages and also any other web page outside of Unbounce.
How much does Unbounce cost?
Unbounce has three core plans and you can get access to most of its features across all of them.
Essential: $79/month
Premium: $159/month
Enterprise: $399+/month
As you can see here, pricing starts from $79 per month and the difference is how many landing pages and popups you can create. Even on the essential plan, you will get a limit of 75 landing pages and eight popups or sticky bars, which will be all needed by some smaller businesses.
Also, the essential plan doesn't support AMP landing pages or some of the more advanced targeting settings. There are some features reserved for the enterprise plan such as audit logs, dedicated support, and also page migration.
Final Words
Unbounce is a great tool for building landing pages to promote your products and increase the conversion rates many times also there are various features you will never see in other platforms as Unbounce itself is mainly a landing page builder so we can't say it is bad, above review written by using and experienced about its features itself.
Visited 1 times, 1 visit(s) today